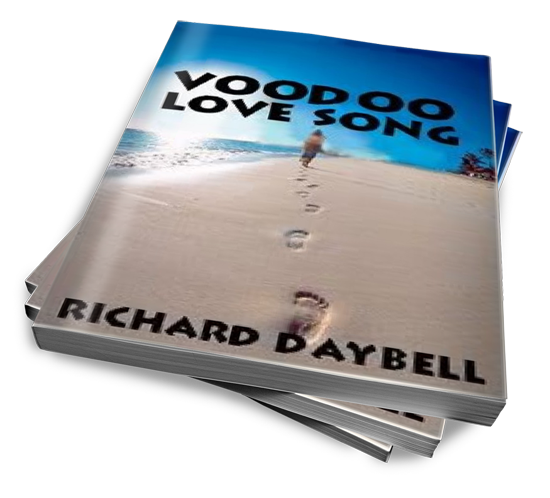 Boy meets duck, boy loses duck, boy finds girl. At Disney World, Paul is picked up by a five-foot duck named Huey. Duckness proves to be skin deep, however, for Huey the Duck is really Huey the Girl, an attractive young woman who leads Paul astray and to Key West, where during a sailing adventure, they are marooned on a tropical island. Can romance survive pirates, pythons and panthers, voodoo, men who have passed through the earth twice, and things that go bump in the Caribbean night? Can Paul and Huey survive?
Voodoo Love Song is a tale of romance and misadventures among the living dead. It's meant to be read while lying on a tropical beach somewhere; it should end up with sand between the pages.

Q&A with Richard Daybell
How long have you been writing?
Think quill pens and typewriters so idiosyncratic that you could immediately be identified if you typed a ransom note. And carbon copies. I wrote my first book in the 1950's. I think I was about ten. It was very neatly printed on a dozen pages of a small notepad. It was an adventure featuring talking animals (My God, I'm still writing about talking animals). I sent it to a major publisher (without SASE). They sent me this very nice form letter rejection. Well, I was thrilled. That was probably the last time I got excited by a rejection.
What, if anything, inspired this book?
The Caribbean -- the beaches, the sugar cane fields, the pace, everything. And Key West. And New Orleans, particularly the Voodoo Museum, which fed my fascination for voodoo and caused me to look into it more deeply. This eventually became a crusade to do something about the bad rap zombies get, thanks to people like George Romero and his Night of the Living Dead. I find myself shouting at passers-by: "Real zombies don't eat people!"
The characters in this book are very entertaining. Are any of them based on people you know in real life?
In one of my short stories, the main character is writing a romance novel and her husband becomes jealous of her main character. When he demands to know who this character really is, she expains that he's everybody and he's nobody, he's manufactured from little bits of you, me, Uncle Leo, the guy at the supermarket. I guess that works for me. The adventurous parts of Huey are influenced by my wife Linda. The sarcastic parts, all mine. And so on. What's fun is when the character absorbs all these bits and makes them her own. That's when you lose some power as the author. Sure, you still have ultimate control: "You're going to die in Chapter 9." But she can say to you: "I would never say that. You can't put those words in my mouth. If you want somebody to say that, you'll just have to create another character. You're supposed to be a writer, aren't you?"
I know this book is not yet published. What are your plans for this book? Will we be able to purchase it in the near future?
I don't know. I'm still holding out for traditional publishing at this point. Strange new ways of doing things present themselves so fast that I can't keep up with them, however. Who knows? Maybe next week I'll be able to inscribe it on the inside of people's eyelids.
Would you like to see your book made into a movie? If so, who would you like to play the characters?
Of course, I'd like to see it made into a movie -- Avatar perhaps. As far as choosing actors, I used to do that but then they'd go off and play a serial kiler or a vampire and ruin everything. So I suppose I'd choose unknowns who would agree to retire after they made the movie. And a few sequels maybe.
Are you working on any other books right now? If so, what can we look forward to?
I've put together a collection of my short stories set in the Caribbean under the title Calypso -- Story Songs of the Caribbean. About two-thirds of them have been previously published in magazines. Several of them are available on my website and on Authonomy.com. I also have another completed novel, Terry and the Pirate, a romantic adventure featuring a group of maladroit modern day pirates. A few other projects are in their infancy. And I've envisioned this series about a crime-solving brewmaster -- the first title is 99 Bottles of Beer on the Wall, to be followed shortly by 98 Bottles. . .
Do you have any favorite authors, and have they influenced your writing at all?
Mercy, yes. At the top of the list is John Steinbeck, who I'd like to grow up to be. Mark Twain, Jonathan Swift, Henry Fielding. More recently Vermont writer Howard Frank Mosher, Tom Robbins, Carl Hiaasen, John Kennedy Toole, Agatha Christie, Andrew McCall Smith, Nora Ephron. They all influence me. I'm easily influenced.
Richard's Website

About the Author: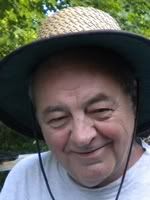 Richard Daybell has been a writer/editor for most of his adult life, working at various times for a public library, a multinational corporation, a university, and state government. With his wife Linda, he also spent seven years as owner/chef of Churchill House Inn, a nine-room country inn in central Vermont.
His short stories and short humor have appeared in regional, national and international commercial publications including American Way and Hemispheres, the inflight magazines for American Airlines and United Airlines, The New York Times, Buffalo Spree, Salt Lake City Magazine, and Tampa Tribune Fiction Quarterly as well as such literary magazines as Rosebud and Dandelion.
Richard and Linda are now living in Lincoln, Vermont, in the Green Mountains where Richard continues to write, concentrating more on novels.
Dawn's Review:
Voodoo Love Song tells us of an unlikely couple who, shortly after they meet, find themselves on an adventure of a life time. Danger and mystery are the key elements portrayed in this novel, keeping us on the edge of our seats the whole time. But even more important is the dialogue between Huey and Paul. Their back and forth banter is both entertaining and comical. Even as they face the dangers of the island, fighting off zombies and pirates, and desperately looking for a way home, they continue to entertain us with their quick wit and humor. Richard is truly and entertaining writer and I thoroughly enjoyed this book.