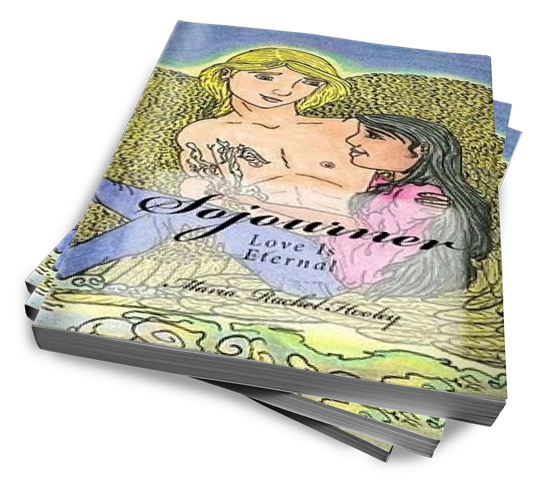 Seventeen-year-old Elizabeth Moon has been dreaming of her murder her entire life, and in those dreams, a dark presence is there, watching. When she returns home to Hauser's Landing, the very place her father disappeared, she comes in contact with a gorgeous boy named Lev Walker, and it's not long before she's falling in love. But there's something wrong with Lev. When she realizes he's the eerie watcher in her dreams, she'll have to discover the truth. Is he a guardian angel or a sojourner, an angel of death who has come to collect her soul?

Book One of the Sojourner Series
Imogen's Review
When seventeen-year-old Elizabeth Moon is forced to move back to her childhood town, she realizes that she's not just an ordinary teen. She's a teen with a guardian angel, one that is in love with her and has been by her side for seven life times. Each of those life times has been tragically cut short, when she has died before reaching the age of eighteen. Her angel has taken it upon himself to make sure that this time, she survives to live a longer life. However, her move back to her hometown is fraught with danger, and she narrowly escapes several near-death experiences with the help of her angel. Will her angel succeed in intervening and overcoming her life being cut short? Will he do so at the cost of his own existence? Will the love between them survive?
Maria Rachel Hooley has written an engaging romantic teen fantasy. I enjoyed every moment of reading it. I was immediately drawn in by the intense feelings between Elizabeth and her angel, willing them to overcome their troubles. The book, as part of a series, leaves many questions still to be answered. I look forward to reading the rest of the books and highly recommend them to YA lovers of contemporary fantasy.
About the Author
Maria Rachel Hooley has written over 20 novels, including When Angels Cry, New Life Incorporated, and October Breezes. Her poetry has been published in more than 80 national literary magazines. Some of her short fiction has been published in Nocturnal Ooze and Combat Magazine. Her non-fiction has been featured in Red River Family and Byline magazine. Her first chapbook of poetry was published by Rose Rock Press in 1999. When she isn't teaching English to high school and college students, she is working on her next book. She lives in Oklahoma with her husband and three children. As a parent of a child on the autism spectrum, she is also an advocate for education about autism.
Q&A with Maria Rachel Hooley
What/who was the inspiration behind Sojourner?
I wanted to write a novel about an angel who needed to learn to love humans because while his moral compass was correct, he his inability to care about humans was getting in the way of his job–carrying souls to the afterlife.
Who can you see playing Elizabeth, Lev and Griffin in a movie adaptation?
For Elizabeth, I'd always pictured model Allie Crandell. Lev is a bit more complicated because after the first novel his 'form' changes. The actor I would pick in Sojourner would be Ben Foster who played Angel in X-Men Three. For the other novels, I'd pick Justin Hartley from Smallville. I'd always pictured Ben Barnes for Griffin.
How many books are there in this series? Do you plan to write any more?
There are four books in the series, and I don't think I'll be writing more. I've learned never to say never though.
Are your students excited that you write YA novels?
Yes, some of them are. I actually had one of them begging me to make her a character in a new book so she's going to be a lethal weapon against evil vampires in Trust the Vampire You Don't Know or the Angel You Do.
Name some of your favorite contemporary authors.
Now that's a tough question because there are so many. My absolute favorite book in the world is The Last Unicorn by Peter S. Beagle. My second favorite is Ariel by Steven Boyett. I will also read anything by Nicholas Sparks.
What's your favorite movie/movies?
My favorite movie is The Phantom of the Opera but I also love the Twilight series and P.S. I Love You.
What kind of music do you enjoy listening to?
I listen to almost everything but I love VAST, My Morning Jacket, and Dishwalla. My favorite song is Angels and Devils by Dishwalla, and it was on the playlist for Sojourner.
Team Edward, Team Jabob or Team Eric?
That's a tricky question because it really depends on whether we're choosing books or movies. I'm definitely Team Jacob with the movies because the character is different than in the novels. As far as the books go, I'm Team Edward.
Please tell us about your current projects.
Right now I'm finishing my twenty-eighth novel. It's a sequel to my YA novel October Breezes and picks up when Devin and Skye are in college. After that, it's either going to be a novel about a vampire who has found a cure to return to morality--to bad he falls in love with her before he can kill her and set himself free--or a historical novel about a young woman who has to unlock all the secrets of her grandmother's life before she dies.