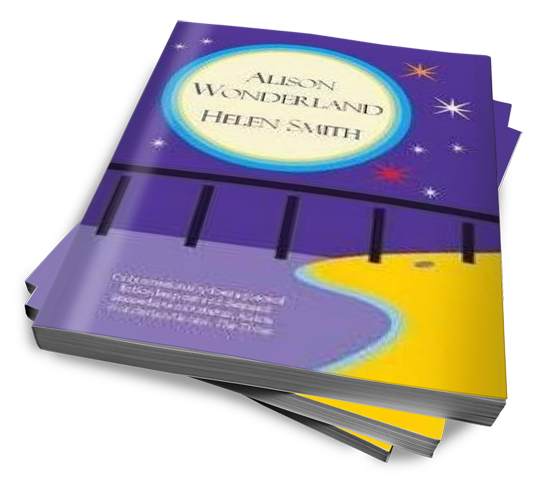 Alison's job as a private detective with Mrs Fitzgerald's Bureau of Investigation takes her on a series of loosely linked adventures involving an abandoned baby, a transgenic animal and secret tunnels under The Thames. She travels from London to the seaside town of Weymouth and back again with her new best friend Taron, a girl with a hundred candle smile. But someone is betraying her. Is it Taron? Is it Jeff, the sweet-natured inventor who writes her poetry? Or are there darker forces at play?
ISBN:
978-0956517005
Q&A with Helen Smith

Who/what was the inspiration behind your main character of the book, Alison Temple?
I remember reading about an all-female detective agency – I think it was in Singapore – which operated partly to trap unfaithful husbands, and that was my starting point. I wanted to write a book about a woman who joins an all-female detective agency and set it in Brixton in south London, where I live. Although Alison is a private detective, the book isn't detective genre, it's a wry comedy about friendship, love, betrayal - and London. Consequently, Alison isn't particularly good at her job. I suppose to some extent she's based on me, though she's a bit grumpier. I asked myself, what would it be like to be a private detective? And I realised it would be quite difficult. Someone would show you the ropes, there would be procedures to follow, but there would be very little certainty about anything.
Who/what was the inspiration behind Taron?
Taron is kooky, maddening, selfish, entertaining, inconsistent – and entirely a product of my imagination. I have never met anyone quite like her and I suppose I invented her because I thought that's what a best friend is supposed to be like; Alison comes alive in her presence. I have had boyfriends like Taron, and I wanted to take romance out of it and just look at the relationship, though it's true that Alison's probably a little in love with Taron, even if she won't admit it. I made best friends with an English girl when I went on an extended trip to Australia many years ago. We went on all sorts of adventures together and wherever we went we laughed and laughed and laughed. We were both so enamoured of Sydney that we said we'd go back to England, scrape the money together and set up home in Australia together. I remember she said she'd sew the curtains for our flat because she was good at sewing. She came back to England about two months before me and I never saw her again, though I phoned her once when I was drunk on Sherry and we had a really nice chat. Though she didn't look anything like Taron and she wasn't much like her in character, perhaps there's a little of my friendship with her in Alison's friendship with Taron.
Will we encounter these characters again, in future novels?
Some of the characters from this book turn up in the next one, Being Light, although it's not a sequel and can be read as a standalone book. Being Light takes place in the same version of London that I created for Alison Wonderland; I like the idea of a city so small that it functions like a small village, with people criss-crossing in and out of each other's lives and knowing each other's business.
How long have you been writing for?
I started writing my first novel when I was about ten – before that, I used to write a lot of poetry. I never quite got the hang of poetry but I persisted with my dream of becoming a novelist. When I was eighteen I decided I should try and live an interesting life and then start writing in earnest when I was thirty. And that's pretty much what I did, though I cheated and started when I was twenty-nine, to give myself a head start.
Has this novel been optioned for TV/film?
Yes, it has been optioned to be turned into a TV series by the BBC.
Who would you like to see play Alison? Taron?
Ooh, that's a good question! I have no idea. I'd like Alison to be played by one of those comediennes who turn out to be really good at crying. She makes all sorts of sardonic quips in the book and there's a hint of anger behind what she says, and comediennes have a way of conveying that so you love them for it rather than resenting them. Taron would have to be bewitching and difficult to read , so you'd never be sure whether what she was saying was going to get her and everyone around her into trouble, or whether it might save the world. If anyone reading this has read Alison Wonderland and has any ideas about who should play either character, let me know. Better yet – write to the BBC and tell them!
Do you have a favorite book/Author?
I'd find it impossible to choose just one book, and even narrowing it down to just one author is tricky so I'm going to say Peter Carey, Chuck Palaniuk, Paul Auster, Kazuo Ishiguro, Mary Carr and Dickens.
What's your favorite movie?
Is there room for more than one? I loved Baz Luhrman's Romeo + Juliet, Strictly Ballroom, Fargo, Who Framed Roger Rabbit, Some Like it Hot, Muriel's Wedding, Sweet Charity, Children of Men, Being John Malkovitch and Synecdoche New York.
Helen Smith travelled the world when her daughter was small, doing all sorts of strange jobs to support them both-from cleaning motels to working as a magician's assistant–before returning to live in London where she wrote her first novel. She writes novels, poetry, plays and screenplays. She's a long-term supporter of the Medical Foundation for the Victims of Torture and mentors members of an exiled writers group to help them tell their stories. She likes knitting but she doesn't like driving. She likes dancing.
You had me at "I'm waiting for Mr. Wonderland and when I find him I'll get married. Until, then I'm staying single." And you kept me captivated right to the end-the poignant parting words will stay with me.
I can't rave about this book enough. The Author, Helen Smith, takes us on a wondrous journey into the life of Alison Temple, a private detective based in London. Her writing is sharp and witty, her ideas totally original. All the characters in this story are interesting and peculiar in their own ways. I won't say a lot about Taron, only that you will instantly fall in love with her. I can't wait to read more from this brilliant Author.