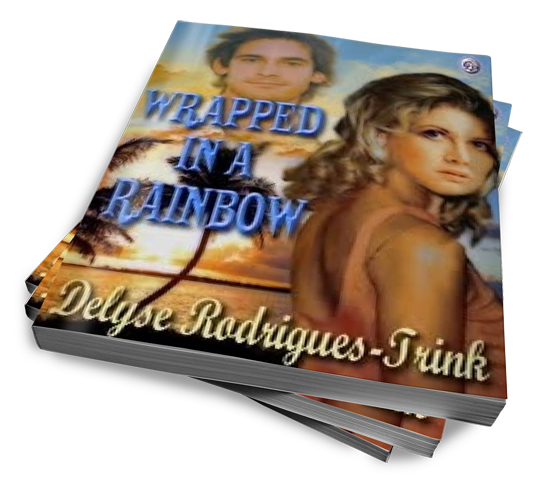 Have you ever wondered -- what would have happened if I took that chance? Life presents to Kristy a fabulous once in a lifetime opportunity to work in the Bahamas. If she decides to go for it, will it meet, exceed, or fall short of her expectations?
Sexy, handsome Dave is wary and jaded about women. He likes his life in the beautiful Bahamas where his romantic encounters are fast and fleeting. Gorgeous Kristy catches his eye but refuses to play by those rules. In fact she has studiously avoided men like him! David is intrigued by her resistance and so relentless in his pursuit, that much to her astonishment, Kristy finds herself agreeing to go out with him.
They end up having a sensational first date, but then it all turns to shambles. Could it be that David isn't everything he appears to be? Could it be that Kristy isn't everything David assumes her to be? Read Wrapped in a Rainbow to find out!


Links:
Amazon
About the Author:
Author Delyse Rodrigues-Trink currently lives with her family in Ontario, Canada. She has been writing since her high school days where she enjoyed twisting the suggested titles for compositions by teachers into something unexpected. She admits to being a bookworm and in the summer she can't wait to get all the chores done so that she can daydream and relax with a cool drink and a good book on the back deck. Her favourite genre to read is romance and she has always wanted to write one of her own. Wrapped in a Rainbow is that accomplishment. She is currently working on a mystery novel and also has plans to write a romantic suspense novel.
Review:
Wrapped in a Rainbow is great summer reading/beach book. I think at some point everyone has felt the way Kristy feels at the beginning of the book. You go through her range of emotions with her. Though there are a couple of different times where Kristy reacted much differently (and better) than I would have. Delyse describes the places in the book with such detail that you almost feel like your right there on the beaches of Bahama's too. I also really loved that there wasn't a what happened next when the story was over. I really hate being left hanging when a book ends and it isn't part of a series, this book ties up the loose ends. If your looking for a light, fun read then Wrapped in a Rainbow is the book for you.