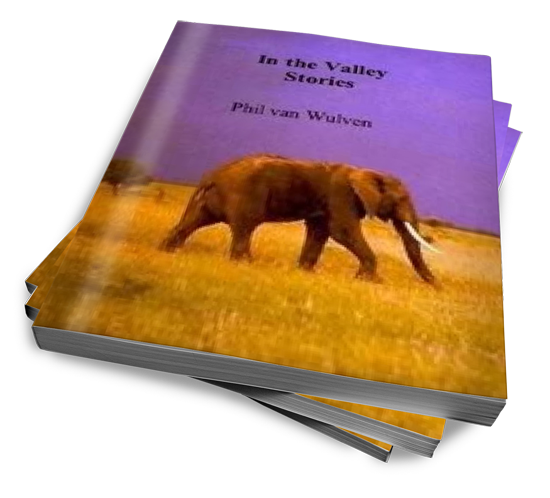 These short stories will take you away, down into the valley and up again to soar over the mountains. Most are set in Africa, in the ancient bush, with people interacting with the animals, the birds and the spirits.
A collection of six short stories, the first four of which all share an African theme.
Q&A with Phillip van Wulven
Are any of the scenes depicted in your book influenced by real life experiences in Africa?
Of course I drew on my own experiences growing up in South Africa and Zambia for the settings, the animals and plants and the general feel, as well as using actual incidents as the basis for many events. Real events have mostly been morphed by putting conversations and feelings that did not take place into their context.
Were any of the characters based on real people?
Yes, in the two stories set in Capetown particularly - 'Sunbird' & 'finding the Eland' - both are based on real-life incidents from my childhood. The people in both those stories are based on real people. I should point out that 'based on' does not mean either the events or people as written are photographic reproductions of reality.
What made you decide to become a writer?
I've always enjoyed story-telling, adding a 'what-if' to actual events, both to emphasise possible meaning and to explore different outcomes or consequences.
Do you have any other works underway?
Yes, I have a completed novel, 'Eland dances', not yet published, and another about 3/4 written. I also want to continue the story of the elephant and Gosnaat the poacher from 'In the Valley' - the 10,000 word story in the book. There are also a few more stories sitting idle on my hard drive that might be going into another short story book soon, with some editing and polishing.
What is your favourite part of writing?
When I am so immersed in the time and place of the story I lose track of any other context. Mostly this is when writing the first draft, when the characters and plot just unfold effortlessly. Then again, when things suddenly fit together and something I've written that doesn't seem quite right falls into a new perspective with just a few words added or altered.
Do you prefer writing short stories or novels?
With short stories there is the satisfaction of having something complete that can be read and appreciated in one sitting. With a novel you can bring in much more complexity, with layers of meaning and several different plot lines running, more like real life.
Best answer I can give to that question is I enjoy writing both, just as I like drinking a cup of tea or coffee sometimes, and other times I like to drink India Pale Ale while watching a humming bird busy at the bergamot bush and smelling the new mown grass.
Links

Amazon - Kindle
Smashwords
Phillip's Fan Page
About the Author

Phil van Wulven was born in Africa, in a family who changed houses and schools, as well as countries, quite often. Landlords, Headmasters, and governments prefer you to leave places as you found them, he discovered. He has lived in Canada for quite a while now, where he is busy growing roots. He hates rejection almost as much as dejection.
He likes trees, birds, sunsets, and all that, and is getting used to the idea that seeing a sunrise doesn't mean he is on the way to work.
He likes to read, write, drink beer, and fix stuff.
Dawn's Review
In the Valley was such an interesting book. I've always been fascinated with Africa, and Phil's descriptions leave the reader feel like she is right in the heart of it. Although each story depicted in this book is fairly short, they do not leave you wanting. They are imaginative and descriptive in a way many authors fail to project. I enjoyed Phil's writing and hope to see more in the future.