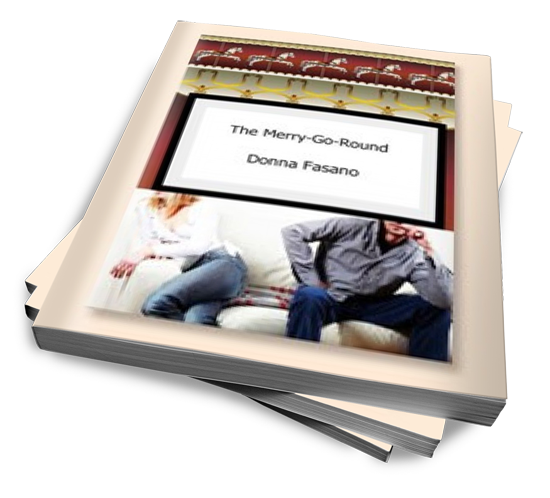 When Lauren goes to court it's usually to defend a client, but now she's divorcing the man whose mistakes have cost her far too much. Little does she know that she'll be awarded a rundown merry-go-round. Maybe restoring the circus menagerie will bring her some normalcy. Or will it spin her in circles and teach her a few lessons before bringing her back to where she started? One thing is certain; Lauren will discover that, when she's willing to open her heart to love and forgiveness, life never fails to offer a wild ride.
A Touching Romantic Tale. The end of her marriage-her divorce-signals the beginning of a period of upheaval, both physical and emotional, for Lauren Flynn, a hard-working lawyer. A change in her financial circumstances puts an end to her solitary year-old post-separation living arrangements. Her dad moves in with her-her dad, who is still close to her now ex-husband, bringing him back into her life. Donna Fasano takes us on a captivating emotional ride as Lauren tries to move on with her life-she has to come to terms with her own deep seated feelings and misconstrued conclusions, and allow herself to accept them in order to be able to progress. This beautifully written story will hold your attention and stay with you. I read the Kindle version of this novel, which was very well formatted. I can't wait to read more of Donna Fasano's books.
Growing up the third child of five—yes, smack dab in the middle and the only girl to boot—Donna Fasano had no idea she would one day be a published author. Her story-telling talents came to light when she conjured lively and elaborate tales of pure blarney (yes, she has a bit of Irish in her blood) for, first, her youngest brother, and years later, her children.
Donna sold her first manuscript in 1989, and since then has become a bestselling, award-winning author of over thirty novels and four audio books. She writes under her own name, Donna Fasano, as well as under the pen name Donna Clayton and is known for her "smooth, polished" writing style and for creating "strong, complex" characters. Reviewers have described her stories as "poignant," "richly textured," "enticing," and "absorbing." The writing process can be extremely engrossing for Donna, so much so that she's missed appointments with dentists and doctors, lunches with friends and family, and once she even forgot her carpool run. Luckily, the people in her life love her enough to make allowances for her quirkiness.
Still happily married to her high school sweetheart, she is the mother of two grown sons who have flown the coop. She and her husband share their home with Jake, a couch-potato, black and white border collie, and Roo, a spotted tan and cream Australian cattle dog that looks (and acts) like a wild dingo. Donna's spare time is spent reading, walking the countryside and beach, or trying out new recipes from one of the many cookbooks she has collected over the years. Oh, and one night a week she and her hubby nab some alone time from their busy schedules to enjoy a nice glass of wine and a video—preferably a romantic comedy. Donna also volunteers loads of hours to the children and the local missions of her small church. She divides her time between northern Delaware and Maryland's southern seashore.
1. I am sure Lauren Flynn will strike a cord with many women, what or who was the inspiration behind her character?
There is something mysterious, even miraculous, about the writing process. I do a lot of ruminating about my stories and my characters before I sit down to write. I knew a few things about Lauren; she was a go-getter, a workaholic who felt that achievement—personal and professional—was important. I knew she would be a complex character, a difficult one to successfully create, because all too often strong women are seen as cold and calculating. So I knew, along with all those smarts and such a hunger for success, she'd need to be a loving, caring individual.
I put my faith in the creative process, and Lauren was born. She turned out to be a perfect protagonist for this story: strong and intelligent, but vulnerable, too.

2. Do you believe people can change enough and permanently to alter the dynamics of a relationship? Or is change transient, with the "real" personality emerging again after a while and the relationship going back to the way it was?
What interesting questions. I'm no Freud, that's for sure. But I do have a couple of thoughts. If the dynamics of a relationship are permanently altered, then said relationship could be in jeopardy of becoming stagnant. No one wants a boring marriage, right? That's why opposites often
do
attract. In The Merry-Go-Round, Lauren thinks what will bring her happiness is someone just like her. But what makes life exciting is the ebb and flow—the friction—of differing personality types.
I do believe that personal change is possible, up to a point. No one can really alter the core of who they are (high-achievers must achieve, sages must learn, heroes must win the day). But that doesn't mean a once troubled relationship has to go back to being troubled. Anyone who is married or in a long term relationship knows that love isn't all sunshine and daffodils. Compromise is the name of the game. Love is hard work, and it's in working out the differences that each person in a relationship, as well as the relationship itself, grows.
3. What prompted the use of the merry-go-round (both as a metaphor and a physical entity) in your story?

I have a place at the beach; I love the ocean. I was thinking about my book while strolling on the boardwalk. I was close to sitting down to write. The plot was worked out, the characters felt fleshed and ready to get onstage, but something was missing. . .something that would bring everything together. I passed the merry-go-round, heard the music, saw the painted carousel animals, and everything just came together. I can only credit the magic of the creative process.
4.
If your novel was turned into a movie, who would you like to see play Lauren? Greg?

Sandra Bullock would make a great Lauren. As for Greg...Josh Brolin is pretty easy on the eyes. Or George Clooney. Or Brad Pitt. I'm laughing here. I think I've given this far too much thought.
5. When you write, do you listen to music (if so which kind)?

I don't. I like to have quiet because there's all sorts of chaos going on in my head.
6. What do you like to read? Any favorite genres?

I have pretty eclectic tastes when it comes to reading. I'll read anything that holds my interest. I like mass market authors like Stephen King, Dean Koontz, Jonathon Kellerman; I like literary authors like Anne Tyler and Alice Hoffman; I read indie authors like you (Imogen Rose), Helen Smith, Margaret Lake, L.C. Evans, Mary McDonald, and dozens of others; I read mid-list authors like Hunter Morgan and Judith E. French. I'll read anything and everything as long as it's well-written and interesting.
7. Team Edward, Team Jacob…….or not?

This question made me smile. I read Twilight and thought it was good, but I didn't catch the Meyers Fever.
8. I was fascinated to discover your impressive collection of novels written under the pen name Donna Clayton. Why did you decide to start using you own name and branch out as an indie author? Would branching out under your pen name have been more beneficial in that you have such a wide following under that name?

As Donna Clayton, I write 'sweet' contemporary romance novels, and any fan who reaches for a book with my pen name on it will expect just that. I sold 3 women's fiction books, written under my own name, to my Harlequin editor for the company's line known as NeXt. One of the books, entitled Where's Stanley, was published; however, by the time I finished the second 2 novels, the Harlequin NeXt line had gone defunct, so the rights to the books were returned to me. I decided to publish them under my own name so I wouldn't confuse my Donna Clayton fans.
9. Can you tell us about your forthcoming novels?

I have the other women's fiction novel that I mentioned above. The working title is Hindsight and I'd like to get it polished up and offered for sale just as soon as I can. I have also just acquired the rights to my first 11 novels. . .all of them written under my 'Clayton' persona. My plans are to edit these 'sweet' traditional romances, expand the stories, and add some sizzle, then offer them for sale under my own name. This will take some time, but I'm really looking forward to the project. These are exciting times for me!
Links