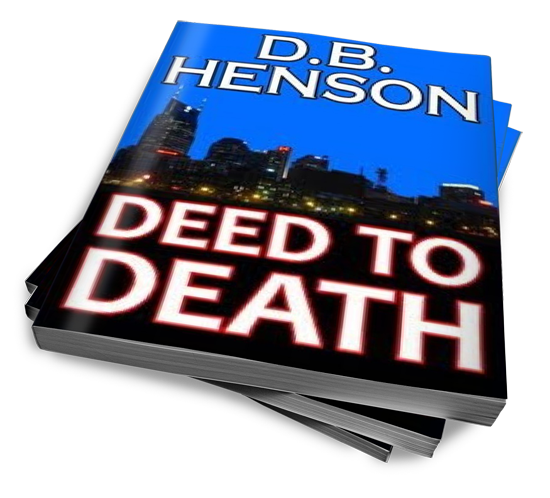 Real estate agent Toni Matthew's problems begin when her fiancé, Scott, is murdered. Having to bury the man she loves on the very day they planned to be married is almost more than Toni can take. Dealing with her loss becomes even harder when Scott's estranged brother, Brian, contests the will, threatening to take away her home.

After learning Brian is in deep financial trouble, Toni suspects he may be the one who killed Scott. Determined to find the truth and frustrated with the police, she begins her own investigation. Toni soon realizes she didn't know her fiancé quite as well as she had thought. Scott had been keeping secrets. Secrets that make Toni the killer's next target.


Imogen's Review

When Toni's fiancé unexpectedly dies, she is not ready to accept the cause-of-death determined by the police. She launches her own investigation, and with the help of tools available to her as a real estate agent, manages to track down possible suspects. D. B. Henson's whodunit was a fun, quick and entertaining read. I look forward to the next book.

D.B. Henson was born and raised in Middle Tennessee. Her love of reading began at age six when she was given the first book in the Trixie Belden Mystery series. Shortly thereafter, she began writing stories of her own.

D.B. majored in accounting at Middle TN State University, but soon realized life as a CPA was not for her. Deciding to go in a completely different direction, she earned her real estate license. After selling houses for five years, she signed on as the director of marketing for a local construction company.
During a slump in the housing market, D.B. decided to leave the construction industry and focus on her life-long dream of writing.
D.B. and her husband continue to reside in Middle Tennessee.
1. Did the inspiration behind the story come from your own background in real estate?
Yes. It began with a basic plot idea that came to me as I was walking through a tall commercial building under construction. The main character, Toni, began to form in my mind shortly thereafter.
2. Have you known real estate agents to use their access to private information, for other than legitimate reasons? (Could provide for some very interesting story lines!)
No. Fortunately, all the agents and other real estate professionals I have worked with have been completely aboveboard and would never consider using the information for any other purpose than to help the client. Tax information is actually public, and can be obtained by going to the tax assessor's office. Real estate agents have the advantage of being able to access the database directly from their own computers.
3. Do you have a book trailer for this book?
4. How has your book been received by your former colleagues and others within the real estate world?
I haven't told any of them about the book yet. Only my husband, parents and a few close friends know I have written a novel.
5. Is there scope for a sequel? Will we encounter Toni or any of the other characters again?
I don't plan a sequel. It's possible Toni may pop up in a future book if a real estate agent is needed.
6. In a movie version of the book, who can you visualize playing Toni and some of the other characters?
I can see someone like Evangeline Lilly from the television series Lost playing Toni. As Brian, maybe Josh Duhamel. And possibly Ashton Kutcher as Mark.
7. Do you listen to music while you write?
No, I find it to be a distraction. I end up singing along instead of concentrating on my writing.
8. Team Edward or Team Jacob (or Eric.....)?
I haven't read the Twilight series yet, so I don't have an opinion.
9. What are your favorite books and movies?
My favorite books from my childhood are Rebecca by Daphne DuMaurier and Flowers for Algernon by Daniel Keyes. My favorite authors today are Harlan Coben, Greg Iles, and Tess Gerritsen. My favorite movie is the old Jimmy Stewart classic, It's a Wonderful Life.
10. Can you tell us a bit abut your other projects? Are you working on a new novel at the moment?
I'm currently working on the first book in a new mystery series.