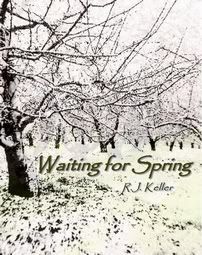 A recently divorced woman trudges out of one small, Maine town and into an even smaller one, hoping to escape her pain. Instead she finds herself surrounded by people who are trudging on, just like her. Waiting for things to get better. Waiting for spring.
Waiting For Spring takes readers beyond the lighthouses and rocky beaches tourists visit and drops them instead into a rural Maine town that is filled with displaced factory workers who struggle with poverty and loss, yet push onward with stubbornness and humor.
Q&A with R.J. Keller
1. A lot of the emotion in this book seems so realistic. How much of that came from real life experiences?
None of the plot was autobiographical. For example I'm happily married (never divorced), I have a great relationship with my mom, and I had never picked up a paintbrush prior to doing research for Waiting For Spring. But you could absolutely say that the novel is emotionally autobiographical. I've had my heart broken, I've hurt other people, I've second-guessed my abilities as a parent. I've felt powerless as I've watched people I love very much make stupid and dangerous decisions. It was just a matter of tapping into those emotions and putting a spin on them.
2. I know you've mentioned before that people complain about the language in your book. Does this bother you? Has it ever made you reconsider certain scenes, or do you think the reaction makes it more intriguing to others?

I don't know that it bothers me too much. I think I was surprised by a lot of it, because the stuff I read is very raw, so writing that way didn't strike me as odd. Most readers I've heard from personally don't have a problem with the language or sex, and understand why it's in there. But even if that wasn't the case, I can't think of anything I'd clean up. Every f-bomb, every sex scene, is in there for a reason. And the truth is, I do think the uproar (such as it is) has brought attention to the book. For example, sales shot up for awhile last year after a reader tagged it as "vulgar" on Amazon.com.
3. Waiting for Spring has been picked up by a publisher. How exciting for you. What was your first reaction when you found out?
Yes, it's been acquired by AmazonEncore, the new publishing wing of Amazon. I'm very excited, but my initial response was disbelief. I really thought it was a hoax. I had to contact a friend of mine, another writer who had recently gone with Encore, to make sure it was the real deal.
4. When can we expect to see the newly revamped version? I know there is a wonderful new cover. What other changes can we expect?
I LOVE the new cover! It's so different from the original cover I designed, but it fits the theme of the book perfectly. As far as changes go...well, there really aren't that many. It was given a very thorough copyediting, but although there were a few tweaks, there were no major changes plot-wise, and no real cuts (including no lost f-bombs or sex scenes). The re-release is set for May 2011, but it's available to pre-order now.
5. Can we still buy the old version or do we have to wait for the new release?
The self-published version is still available, and probably will be for at least several more weeks.
6. You are part of the Paper Rats production with Kristen Tsetsi. (Everyone should check it out. Very entertaining.) How did the two of you start doing that and can we expect more?
About a year ago, I put together a kind of 'reader testimonial' video for Waiting For Spring. One of the people I asked to contribute to it was Kristen. I had given everyone involved a script of what I needed them to say, then gave them permission to go as bonkers with it as possible. Kristen came up with this hilarious character that was so far beyond what I'd expected. She was just super funny. I'd been doing some video blogging off and on for a year before that anyway, and I'd also been watching the Vlogbrothers videos, and I'd been thinking for awhile that it would be cool if there was a writers' version of what they were doing. I approached Kristen about it, and she had the idea of making episodes that were actually skits, and things took off from there. Right now there are five "real" episodes, a blooper reel, and two musical interludes at our YouTube channel. We're in the process of working on Episode Six and hope to have it ready soon.
7. What are you working on right now?
I'm doing the rewrites for the follow up to Waiting For Spring called The Wendy House. I call it a "sort of prequel, not quite sequel" to WFS, because it tells the story of Brian's parents, Rick and Wendy, both by going back in time and by exploring some of the events that happened in WFS through Rick's eyes.
8. Tell us a little bit about yourself. Where you're from? When did you start writing? Who is your favorite author? Etc.
I'm originally from Southern California, but moved to Maine with my family when I was 11. I started writing stories when I was about 7 and just never stopped. I read a lot of books in a pretty wide variety of genres and styles, but I've always been inspired by authors who really open up and put it all out there. Luke Davies, Erica Jong, and Alicia Erian are the first three who come to mind.
Links
Amazon
R.J.'s Fanpage
About the Author
R.J. Keller is a writer from Central Maine, where she lives happily with her husband, two kids, and the family cat. Waiting For Spring is her first novel.
Dawn's Review
Tagged as vulgar. It catches your attention, right? While I emphatically disagree with the tag, this book should catch your attention. R.J. Keller has a way with words that is both poetic and endearing. The story itself is an enjoyable read that moves the reader easily from scene to scene. The relationship between Tess and her mother left me feeling heartbroken. The emotion is so real and at times I felt myself loathing the woman she called Mom. With each page read, I felt like I really knew Tess and who she was. Even after discovering the secrets she harboured, I could still relate to her and really feel for her. This was a beautifully written story, and I look forward to buying my new copy in the spring when it is released from R.J.'s new publisher. If you don't want wait until then, read it now while you still have a chance!