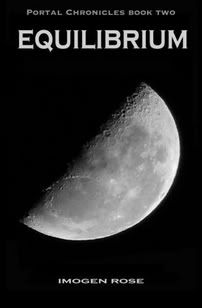 It's not every day you see a naked body slumped by the side of the road... This ominous sight is just the beginning of a mystery that will span two dimensions. When California teen Arizona Darley and her siblings go missing, their mother, Dr. Olivia Darley, discovers that the time-travel portal she invented has been hijacked. Is the hijacker responsible for the disappearance of her children? Have the children been transported to another dimension? If so, the police and FBI will never be able to find them, and Olivia must find a way to rescue her children on her own. How will she do this without access to the portal? EQUILIBRIUM is book two of the Portal Chronicles.
Links
Amazon
Imogen's Website
Imogen's Fanpage
Dawn's Review
I heard over and over again that Equilibrium was better than Portal. I thought to myself, "how can that possibly be? Portal was awesome!" I don't know how she did it, but Imogen truly has outdone herself. Equilibrium delivers all that is promised and then some. It is an action-packed tale filled with mystery and suspense. The story starts off where Portal ended, and we are drawn further into the bizarre life that Arizona has found herself in. Any and all questions that you may have had after reading Portal are answered by the end of the book. Well, not all. Imogen has deviously put a few new twists and turns in the story. But we will have to wait for Quantum to get those answers. I for one, cannot wait!!!
More information on Imogen can be found on our
previous interview
with her.