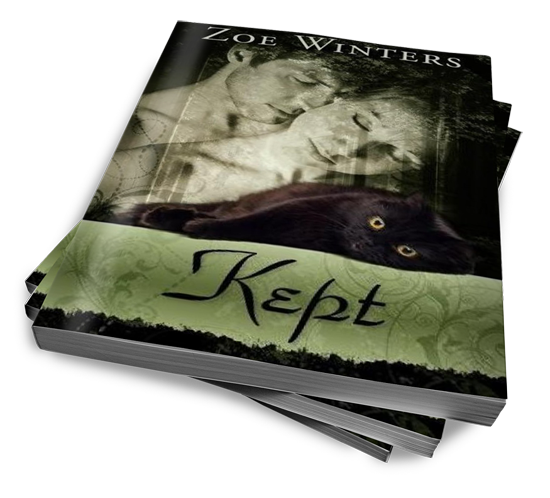 As a cat therian (shifter), Greta's blood is already sought-after to enhance spells and potions, but due to a quirk of her birth, her blood is potent enough to kill for. For centuries cat therians have sought shelter with magic users, giving rise to tales of the cat as the witch's familiar. When her tribe plans to sacrifice her, Greta must ally herself with Dayne, the dangerous local sorcerer who is the only person strong enough to protect her.
As Greta approaches her 28th birthday, a milestone for therians (shifter), she discovers that she has been earmarked for sacrifice because of her special blood. She seeks protection from a powerful sorcerer, Dayne, who undertakes to keep her safe through to her birthday in exchange for samples of her valuable blood. Can Dayne be trusted, though? Is he working for the very people who want to sacrifice Greta, keeping her captive until he can deliver her to the sacrifice?
Zoe Winters spins an intriguing tale, full of romantic action and charm. I look forward to reading part two of this series, CLAIMED.
Zoe Winters is an independent author of quirky paranormal romance. Her favorite colors are rainbow and clear.
What/who was the inspiration behind Kept (Blood Lust, novella 1)?
Kept originally started out as a contest entry for a novella anthology Samhain was putting out. But it wasn't ready in time for the deadline. The original inspiration from my own brain was... "What if a witch's familiar wasn't really a cat, but a werecat?" And the plot sprang from there.
Do you have plans to release the novellas as an omnibus edition?
Actually yes, that's what Blood Lust is. I just approved the proofs for the print edition of Blood Lust which is Kept, Claimed, and Mated. I'll also be releasing it as a single ebook for those who want to just buy all three novellas together (and save a little money that way). It should be available for purchase in E and print in a few weeks.
If you could have anyone play the roles of Greta, Anthony and Dayne in a movie adaptation, who would you choose?
Oh man, I really have no idea. I don't really think that way when I'm writing.
Do you have any music in mind for a potential soundtrack for the movie?
Wow, this is probably the most boring I've ever been in an interview. LOL. I hate to say it, but I don't think that way either. I don't think I've ever sat and once thought about characters or music for a movie. I'm not saying it wouldn't be cool to see my stuff in movie form (provided they didn't completely ruin the story by changing everything like it's their own personal fanfiction, as Hollywood is prone to do with books). I don't even listen to music when I write. I've tried before, but it's too distracting. I can't have any sounds when I'm writing.
What's your favorite movie and book?
I don't watch a lot of movies. I don't have the attention span. Books... "A Hunger Like No Other" by Kresley Cole is one of my favorites. "Nice" by Jen Sacks is another. Nice is about this woman who doesn't like breaking up with men because she doesn't like hurting their feelings, so she kills them instead so she won't have to hurt their feelings, then she meets a hit man and they fall in love. It's very dark and satirical. Very funny even though it shouldn't be. And pretty true about some aspects of the female psyche. I've read it several times.
Heels for the way they make my legs look. Flats for comfort.
Does your husband enjoy reading your novels?
He does, but he pretends they aren't romance. :P
Team Edward, team Jacob or team Eric
?
I haven't read past the first Twilight book so I don't know. Isn't Eric from True Blood/Southern Vampire Mysteries? If so, I vote for Eric. If Eric is a Twilight character, forget it. LOL.
If you could live anywhere in the world, where would you pick?
Southern California. But only if I had the power to teleport. I like being near my family.
Please tell us about your current projects.
Right now I'm working on the first full-length novel of the Preternaturals Series (The omnibus with Kept, Claimed, and Mated are considered book 1). The novel is called Save My Soul. It's about an incubus that has been cursed by a witch and has been trapped in this house for about fifty years. I'm hoping to release it by sometime this winter.